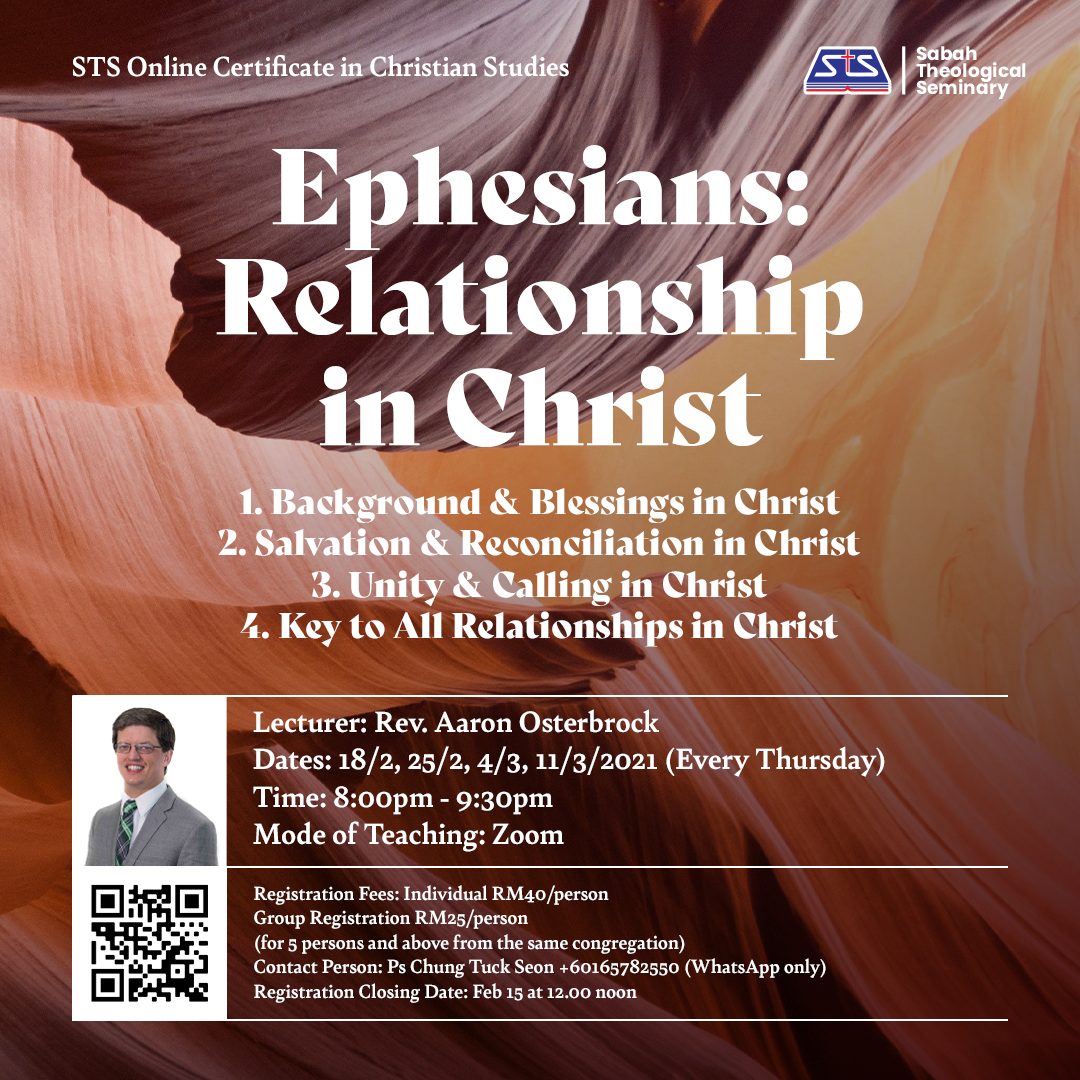 Ephesians: Relationship in Christ
STS Online Certificate in Christian Studies
(Complete a total of 8 online courses: 4 biblical, 2 theology, 2 others)
This is one of the biblical courses for the Online Certificate in Christian Studies.
Course Introduction:
Ephesians has been called the "Queen of the Epistles" as it covers many of the topics close to the heart of the Apostle. John Stott called it, "'the most contemporary book in the Bible', since it promises community in a world of disunity, reconciliation in place of alienation and peace instead of war."
In the midst of this pandemic, Ephesians has much to say about who we are & how we should live in Christ. Rev. Aaron will take you through a careful study of the background and content of Paul's Epistle to the Ephesians as well as focusing on its proper application, which can help you deepen your understanding in God's word and in your relationship with the Lord.
Theme of Each Class:
1. Background & Blessings in Christ
2. Salvation, & Reconciliation in Christ
3. Unity & Calling in Christ
4. Key to All Relationships in Christ
Introduction of Rev. Aaron Osterbrock:
Rev. Aaron is an ordained pastor of the American Baptist Church. He graduated from the University of Cincinnati (USA) with a Business Degree (BBA) (2006). He went to Cornwell Theological Seminary and graduated Magna Cum Laude with a Master in Divinity (2014) as well as Master in Theology (2016). He also has served as Associate Pastor at the First Baptist Church of Hamilton OH (USA)(2015-17). In 2020 he was sent by the American Baptist Church to serve in STS as a full-time lecturer.
Dates: 18/2, 25/2, 4/3, 11/3/2021 (Every Thursday)
Time: 8:00-9:30p.m.
Mode of Teaching: Zoom
Registration Fees: Individual RM40/person
Group Registration RM25/person (for 5 persons and above from the same congregation)
Registration Form: http://bit.ly/stsephesians
Contact Person: Ps Chung Tuck Seon +60165782550 (WhatsApp only)
Registration Closing Date: Feb 15 at 12.00 noon