Pada 22 Februari, hari Sabtu, Simposium Pembangunan Komuniti telah diadakan di Seminari Teologi Sabah. Penceramah-penceramah adalah Dr. Patrick Melancon dan Dr. Hwa Yung. Minat terhadap topik ini telah dibuktikan dengan kehadiran lebih kurang 200 orang. Selepas masa penyembahan dan pengenalan singkat, Dr. Patrick Melancon bercakap mengenai satu model Pembangunan Komuniti yang betul.
Pengalaman Dr. Melancon dalam bidang ini adalah sangat luas. Beliau telah memberikan banyak contoh di mana banyak individu yang berniat baik dan baik hati telah melalukan sesuatu yang tidak betul. Beliau menekankan pentingnya mendengar suara komuniti sasaran untuk mengenal pasti keperluan dan keinginan sebenar mereka sebelum melangkah ke hadapan. Malangnya, banyak kali suara mereka yang pemaju ingin membantu "dilemaskan" oleh penyelesaian yang diandaikan oleh pemaju sendiri tanpa input daripada komuniti berkenaan.
Contoh-contoh positif Pembangunan Komuniti juga dikongsi oleh Dr. Melancon untuk menguatkan strateginya dalam fikiran para peserta. Penggunaan kisah-kisahnya sebagai metode mengajar, disertai dengan slaid yang telah dirancang dengan lancar untuk memberikan garis besar logik strateginya dan menjelaskan istilah-istilah utama, cara ini pasti telah menolong para peserta dalam simposium ini, supaya mereka tidak akan melupakan strategi tersebut dan menjadi perlengkapan bagi mereka kembali kepada komuniti mereka masing-masing untuk pelaksanaan Pembangunan Komuniti pada masa akan datang.
Dr. Melancon telah merumuskan apa yang biasanya beliau mengajar sebagai kursus peringkat Sarjana selama 15 minggu. Walau bagaimanapun, pengenalan topik ini sudah cukup untuk membetulkan beberapa kelemahan para hadirin yang pernah mencuba kerana tidak dimaklumkan dengan betul sebelum ini. Syukurlah, itu tidak akan berlaku sekarang kerana mereka telah menerima tutorial asas Dr. Melancon mengenai perkara ini.
Pemceramah kedua ialah Dr. Hwa Yung. Dr Hwa Yung menegaskan bahawa pendekatan Pembangunan Komuniti harus bersifat holistik yang memenuhi keperluan sosioekonomi dan rohani komuniti dibantu. Jika hanya mementingkan salah satu segi ia akan membawa kepada ketidakseimbangan dalam komuniti sasaran. Memenuhi keperluan sosioekonomi adalah penting untuk pembangunan komuniti tetapi, sama pentingnya, adalah memberi tumpuan kepada sebelah rohani.
Cabaran dari setiap penceramah diterima dengan baik. Selepas dua sesi utama dan rehat untuk makan tengah hari, para peserta simposium kembali untuk sesi perbincangan di mana mereka dibahagikan kepada 7 kumpulan, para hadirin diminta untuk membincangkan soalan-soalan yang disediakan oleh kedua-dua penceramah. Selepas 45 minit perbincangan, setiap kumpulan menyampaikan jawapan mereka. Kedua-dua penceramah kemudian memberi respon dan kesimpulan dengan merumuskan mata utama mereka, sambil memberikan cabaran selanjutnya.
Secara keseluruhannya, ia merupakan simposium yang berjaya kerana terdapat penceramah yang cemerlang dan dengan jadual yang telah dirancang dengan baik yang membolehkan para peserta terlibat secara aktif. Kami berharap anda akan mempertimbangkan untuk datang ke simposium-simposium masa depan, kerana para peserta hujung minggu lalu pasti akan datang lagi.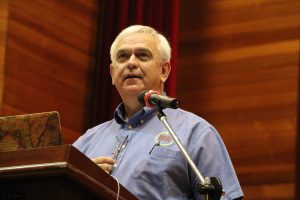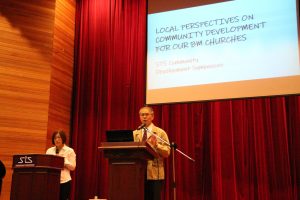 This past Saturday, February 22, a Symposium on Community Development was held at Sabah Theological Seminary with keynote speakers Dr. Patrick Melancon and Dr. Hwa Yung. The community's interest in the topic was made evident by the more than 200 people who attended. After a time of worship and introduction, Dr Patrick Melancon spoke concerning a proper model of Community Development.
Dr. Melancon's experience in this field is wide-ranging as are his numerous examples of stories where kind-hearted and well-intentioned individuals got it wrong. He stressed the importance of listening to the voices of the target community to determine what their actual needs and desires are before determining a path forward. Unfortunately, many times the voices of those whom developers are trying to help are drowned out by the assumed solutions that developers make independent of the community's input.
Positive examplesof Community Development were also shared by Dr. Melancon and helped to solidify his strategy in the minds of attendees. His use of stories as a teaching tool, accompanied, of course, by slides outlining the logic of the strategy and defining key terms, were smoothly orchestrated and left those who participated in the symposium with memorable ways of taking those strategies back to their own communities as well as beginning to equip them for future Community Development implementations.
While Dr. Melancon was summarizing what he usually teaches as a 15-week Master's level course, this introduction into the topic was enough to already correct some fatal flaws that those in attendance may have attempted had they not been properly informed. Thankfully, that will not be the case now as they have received Dr. Melancon's basic tutorial on the subject.
The second keynote speaker was Dr. Hwa Yung. Dr. Hwa Yung stressed the need to approach Community Development holistically, providing for both socioeconomic and spiritual needs of those whom you are desiring to help. To favor one over the other leads to an imbalance within the target community. Meeting socioeconomic needs are vital to community development but, equally vital, is the need to focus on the spiritual side.
The challenges from each of the speakers were well received. And, after the two main sessions and a break for lunch, the symposium reconvened for a break-out session where, divided into 7 smaller groups, attendees were then asked to grapple with questions, which the speakers had formulated. After 45 minutes of deliberating, each group presented on their answers. The speakers then responded in turn and concluded by summarizing their main points, while giving further challenges.
Overall, it was a successful symposium comprised of excellent speakers coupled with a well-thought out schedule that allowed for attendees to interactively engage. We hope that you will consider coming to future symposiums, as those who attended last weekend are surely to do again.