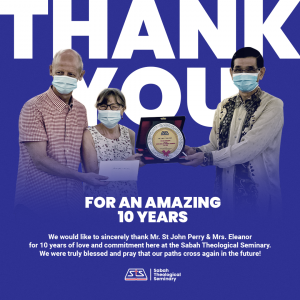 We would like to sincerely thank Mr. St John Perry & Mrs. Eleanor
for 10 years of love and commitment here at the Sabah Theological Seminary. We were truly blessed and pray that our paths cross again in the future!
—
Terima kasih untuk 10 tahun yang luar biasa! Dengan segenap hati kami mengucapkan ribuan terima kasih kepada Pak St John Perry dan Ibu Ellie atas kasih dan komitmen mereka di Seminari Teologi Sabah sepanjang 10 tahun. Mereka telah menjadi berkat kepada kami dan kami berdoa agar kita dapat berjumpa lagi pada masa akan datang!
—
谢谢,为着那美好的十年!
我们衷心感谢St John Perry 和 Eleanor 夫妇在沙巴神学院十年的爱心和委身。我们深受他们祝福!但愿将来能再相逢!