Bachelor In Christian Counselling
Bachelor In Christian Counselling (BCC)
The Bachelor in Christian Counselling (3 years) is to equip those with the appropriate foundation and skills in Christian Counselling, to further develop their careers as Christian counsellors.
Admission Requirements:
A baptised church member, 19 years of age or above, with sound mental health, proven learning ability and good interpersonal skills, actively committed to church ministry.
Form 5 (SPM), O level Grade III and above.  After 2001, passed 6 subjects including Bahasa Malaysia, with at least 3 credits, in one exam.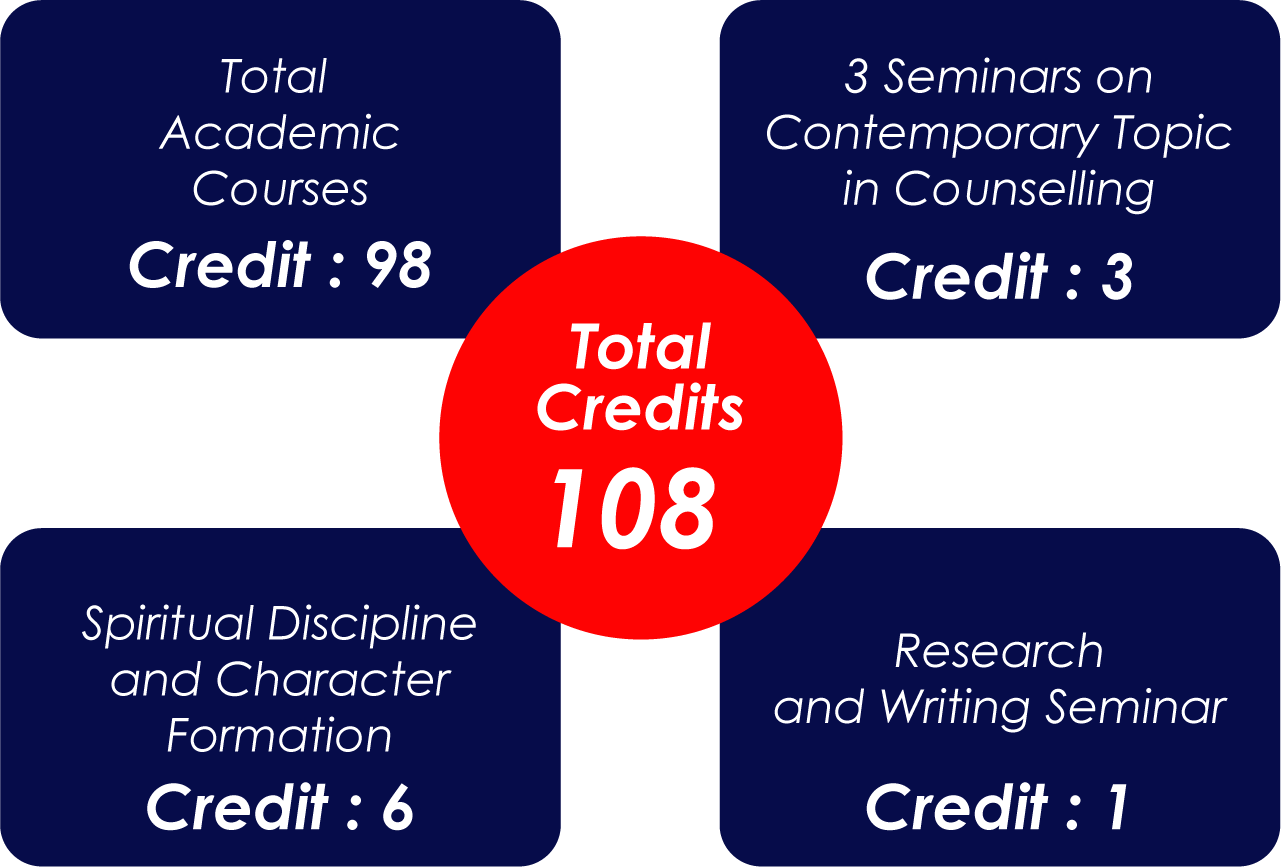 General Education
14
CCO1040
Introduction to Psychology
3
SOC1030
Social Concerns/Social Work and Ministry
3
CCO1030
Personal Growth
3
CCO1070
Human Development
3
REW1015
Research Methodology
4
Bible & Theology
30
OLT1015
OT Survey 1
3
OLT1016
OT Survey 2
3
NET1015
NT Survey 1
3
NET1016
NT Survey 2
3
THE1020
Theology 1
3
THE1021
Theology 2
3
BIB1015
Biblical Exegesis and Hermeneutics
3
PAS1010
Christian Spirituality
3
Elective 1
3
Elective 2
3
Applied Theology
54
CCO1010
Introduction to Counselling
3
CCO1011
Counselling Skills
3
CCO2010
Group Counselling
3
CCO1020
Counselling Theories
3
CCO3020
Christian Ethics and Counselling Practices
3
CCO3041
Integration of Spirituality and Counselling Practices
3
CCO2080
Interpersonal Relationship
3
CCO2020
Premarital Counselling
3
CCO1060
Practicum 1
3
CCO2030
Practicum 2
3
CCO2060
Practicum 3
3
CCO3040 / 4040
Spiritual Guidance*
3
CCO3010
Family & Marriage Counselling*
3
CCO1050 / 4050
Advanced Counselling*
3
CCO3080
Grief Counselling
3
CCO3090
Counselling of the Elderly
3
CCO3015 / 4015
Attachment and Parenting*
3
CCO3070 / 4070
Counselling Adolescence and Youth*
3
Non-GPA
10
SEM…
3 Seminars on Contemporary Topics in Counselling
3
Spiritual Discipline and Character Formation
6
SEM1011
Research and Writing Seminar
1